"Hailing from the hometown of Neurosis, High on Fire, Dead and Gone and the Oakland Raiders comes the new devil spawn of Rock and Roll; Brainoil. With a wall of raspy down-tuned equipment, Brainoil melts intense underground live energy with a powerful, tight rhythm section creating head-throbbing southern-sludge influenced Rock and Roll." -Life is abuse
Demo (1998)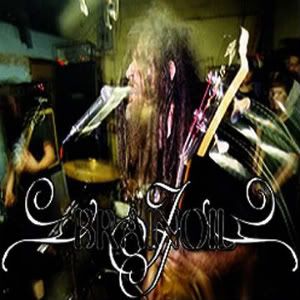 Brain/Lung is an extremely rare split with the legendary power-violence duo, Iron Lung. It was released on Boredom Noise Records.
Cruevo split CD (2001)
Although this amazing split was jointly released between four different labels, it was limited to a single run of only 1000 copies. Cruevo was another great Oakland-based band delivering three longer songs of intense stoner-crust.
Brainoil s/t LP (2003)
Brainoil's legendary debut full-length is often described as "Southern-sludge at it's best". It was initially released on Life is abuse in 2003 and then on Throne the following year.
Death of this Dry Season (2011)